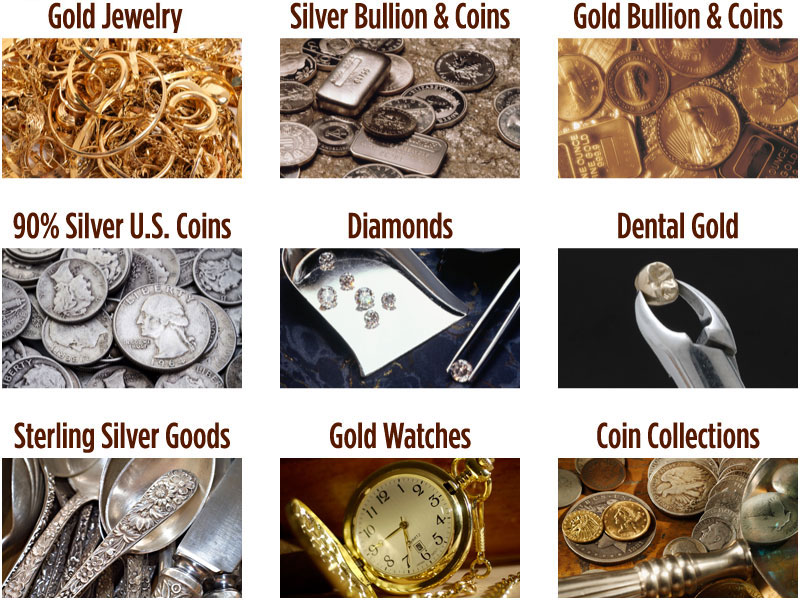 In recent years the number of companies offering to buy your gold & silver has exploded, and not all of them can be trusted to pay you a fair price. We've been in this business for 50 years now, and have seen it all.
We're so confident that we pay more for your valuables that we're willing to post our live up-to-the-minute prices right here on this web page! We're not going to pull the old bait-and-switch routine you might get elsewhere, telling you one thing on our website or over the phone, then making a lower offer once you're here in the shop.
The prices you see below are exactly what we'll pay you right now, after weighing your items and testing for purity. We pull in real-time market data 24 hours a day and use it to calculate prices on this page and on our Live Price Board. We're not salespeople, we keep our pricing transparent so you can rest assured there's no funny business happening under the surface.
If you think you can get a better price elsewhere, we invite you to go ahead and shop around. At the end of the day, we want you to get as much as possible for your precious gold & silver items. We're pretty sure that if you do shop around, you'll eventually come to us in the end!
Questions? Call us! (434) 979-2646
Live Scrap Gold Prices:
Grade
We Pay / dwt*
10k
$18.27
14k
$25.76
16k
$29.47
18k
$33.14
22k
$40.86
24k
$47.75

*Scrap Gold is measured in Pennyweight (dwt). To learn more, Click Here
Live Gold Coin & Bullion Prices:
| Item | We Pay |
| --- | --- |
| 1 oz Gold Pamp Suisse Bar | $1172 |
| 1 oz American Gold Eagle Coin | $1192 |
| 1/4 oz American Gold Eagle | $298 |
| 1/10 oz American Gold Eagle Coin | $120 |
| 1/2 oz American Gold Eagle | $597 |
| 1 oz .9999 Canadian Gold Maple Leaf | $1174 |
| 1 oz Gold Krugerrand | $1174 |
Live Sterling Silver Prices:
Grade
We Pay / ozt*
Sterling (.925 pure) Silver
$10.59

*Sterling Silver is measured in Troy Ounces (ozt). To learn more, Click Here
Live Silver Coin & Bullion Prices:
| Item | We Pay |
| --- | --- |
| 5 oz Republic Metals .999 Silver Bar | $71.66 |
| 10 oz RMC Silver Bar | $132.40 |
| 100 oz Royal Canadian Mint Silver Bar | $1320.54 |
| 1 oz American Silver Eagle Coin | $13.74 |
| 1 oz Silver Rounds & Bars | $13.49 |
| Canadian Silver Maple Leaf | $13.64 |
| 90% Silver Coins $1 Face Value (Our Choice) | $9.29 |