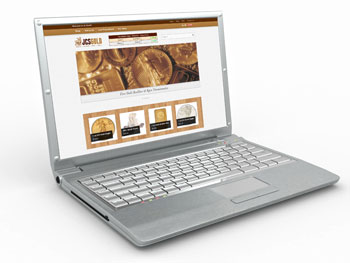 Welcome to the new online home of Jefferson Coin – JCSGold.com!
We spent the last couple months hammering away at what you see here, and are really pleased with how it's shaped up.
The corner stone of the new site is the live buy and sell prices, keeping our site constantly current. You can see these live prices on every bullion product in the Shop, on our Live Price Board, and we'll even tell you plain as day what our Sell to Us prices are! We challenge you to find another buyer confident enough in what they're paying to do that; no funny business, no bait & switch, no "up to" offers.
We've been across the counter from you for years. Over the last ten years we've enjoyed the stories, predictions and advice our customers and friends have shared over the counter. We've learned from you!
This blog will let you share your predictions and stories with each other. We invite you to make yourself at home in the comments section of this post and all the others we have planned for our Blog. We hope this will be a place where you can enjoy "Talking Shop" without always needing to drive all the way to the Shop!
Keep in mind that we try our best to stay neutral in predicting precious metals trends. Please share your opinions, but understand we might not be able to share ours. Is it going up or down? We don't know but we sure do like gold and silver!
Stay tuned, keep coming back, and participate in the conversation!